Bahamas , 700 islands , in the Caribbean
The name "Bahamas" comes from Spanish, and it roughly translates to mean "shallow water."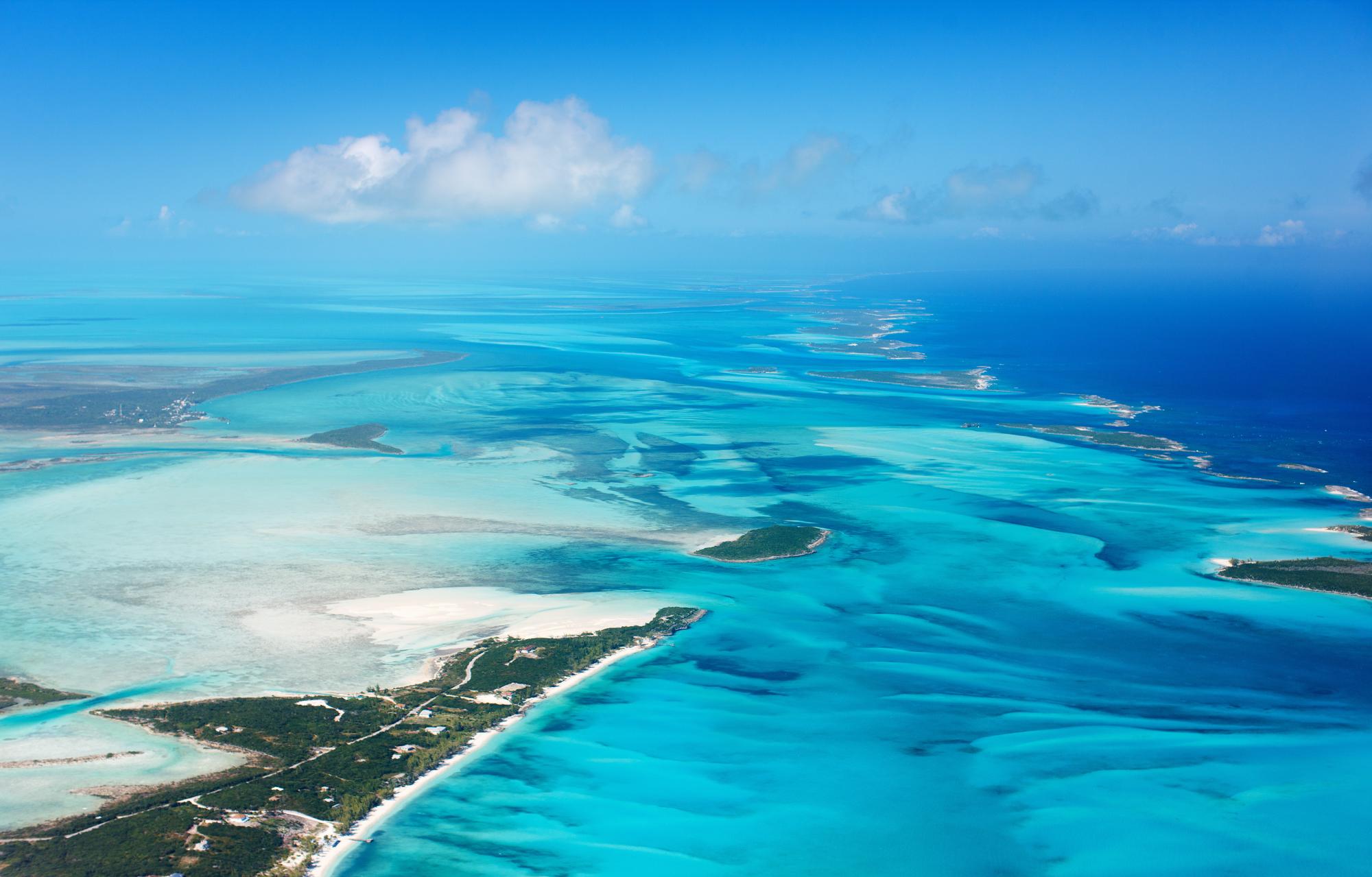 Visit The Bahamas
Located just 70 nautical miles off the east coast of Florida, travelers will find Freeport on Grand Bahama Island. This destination is even Floridians boat there on a regular basis. For everyone else, however, it's just a quick from the mainland of the US. Travelers should start planning their escape to the Bahamas today!
The Best Time To Visit The Bahamas
A photo of The Atlantis, Bahamas
Travelers generally agree that the best time to visit The Bahamas is November or late April, when travelers will find fine weather and fewer crowds, and they're still outside the hurricane season.
The Bahamas enjoy a sheltered position in the subtropics. They are fortunate to enjoy warm temperatures year-round, hovering between 75 °F to 84 °F, with only slight variations between seasons.
Travelers can expect evenings and mornings to be slightly chilly between December and April. However, the sea is always pleasant enough to swim in when the sun shines warmly, which is most days. It isn't surprising that many living in the north choose to migrate south to the Bahamas to warm up.
Unsurprisingly, this is a popular time for visitors from the Northern Hemisphere, especially in March and early April during spring break when university students flock to the Bahamas. You'll need to plan well ahead for the best choices during this busy season.
The summer welcomes slightly hotter temperatures, more humidity, and a much greater chance of rain or severe weather. The breeze isn't bad, and the hotels are mostly emptied, however, it still isn't the most ideal time to visit the Bahamas.
The Climate Of The Bahamas
A photo from Coco Cay, The Bahamas
The Islands of the Bahamas are located on the boundary of the tropical and subtropical zones which gifts it a warm subtropical climate. Unlike other subtropical climates around the world, winter doesn't bring days of endless rain. The climate is not uniform across all the islands. The northwestern islands receive nearly twice the rainfall of the southeastern islands.
During the winter, temperatures on the northern islands can be a bit cooler than the southern islands with the yearly averages for the islands of the Bahamas ranging from 63 °F (17 °C) and 90 °F (32 °C).
The relatively warm waters of the Gulfstream run through the Bahamas making it pleasant to swim nearly all year round. As for total rainfall, the Bahamas varies from about 865 mm to about 1470 mm per year. Their climate is also influenced strongly by El Niño Southern Oscillation (ENSO). It brings the island relatively dry temperatures from June to August.
Climate Of Exuma International Airport
A photo from a plane above Exuma, The Bahamas
Exuma is one of the most sought-after islands in the Bahamas. In Exuma, summers are long, hot, oppressive, and mostly cloudy, however, its winters are long, warm, muggy, dry, and mostly clear. It is windy year-round in Exuma, and over the course of the year, the temperature typically varies from 70 °F to 88 °F and is rarely below 66 °F or above 90 °F.
Here are some seasonal recordings from Exuma International Airport.
Spring – 73 – 82 °F (April)
Summer – 79 – 88 °F (July)
Fall – 77 – 85 °F (October)
Winter – 70 – 79 °F (Winter)
The Bahamas Are Most Known For
A photo of a pig swimming in the Bahamas
The Bahamas are perhaps most famously known for their pristine white sand beaches and turquoise waters, but that is far from the only thing the Bahamas are known for. One of the most famous activities in the Bahamas is to visit Exuma to go swimming with pigs. The Bahamas are also a popular place for the rich and famous to visit and travelers might just spot some well-known individuals during their trip. History buffs who are knowledgeable about the Bahamas' past as a bastion for pirates will love checking out historical sites.
Travelers looking for what the Bahamas are most famous for should take a dive beneath the waves. Scuba diving and snorkeling through the incredible ecosystems around the islands are quite popular too. One of the other popular aspects of the Bahamas is its multiple islands. Each island offers travelers something a little bit different making it an incredible destination to travel through.
Things To Do in The Bahamas

There's no shortage of adventurous activities that visitors will find in the water of the Bahamas. Its beaches remain one of the islands' biggest draws, which is no surprise considering how much there is to be experienced. At these beaches, travelers have some unique experiences that are truly unforgettable, such as swimming with nurse sharks or swimming with pigs.

If taking a dip isn't on the menu, visitors can find themselves perusing one of infinite restaurants or shops in search of their next great meal or purchase. When it comes to the Bahamas, there's no wrong way to spend a day on these beautiful islands.

Easiest Ways To Get To Paradise Island

Shutterstock

Atlantis Resort in Nassau, Bahamas

It's no secret that Nassau is one of the most beautiful places in the Bahamas, while also having the benefit of being its capital. There are many attractions in and around Nassau that would interest visitors and meet or exceed their expectations, Paradise Island is by far one of the best. This island lives up to its name in every way, and does not disappoint.

It's important to note that Paradise Island is the location of Atlantis, which is the most popular resort destination in the Bahamas. With a name capable of evoking an ancient underwater paradise, it's no wonder this is one of the most popular accommodations.

Anyone visiting from Florida has the added benefit of a short trip, which only further adds to the list of reasons to visit this true paradise.

Ocean Atlas

Underwater sculpture Ocean Atlas, Clifton Heritage National Park, New Providence, Bahamas

Ocean Atlas, the awe-inspiring giant sculpture installed underwater off the shores of New Providence, is one of the most spectacular underwater sights in the Bahamas. For those looking to see something spectacular during their visit, this is a sight to behold.

This underwater museum is expanding the possibilities of what one might expect during a snorkeling tour in the Bahamas, and also holds the added benefit of being an eco-friendly installment. Easily bringing together art, adventure, and sustainability, visitors will learn that the largest underwater statue in the world is home to more treasures than its appearance.

'Blue Holes' Are Too Risky Even For Skilled Divers

"Blue Holes" are a naturally occurring feature in the Bahamas, and are some of the most mysterious and beautiful natural attractions to behold.

The highest concentration of blue holes, AKA underwater cave systems, in the world can be found in Andros. This is also the largest island in the Bahamas, and even though it might be a hot spot for experienced divers, these dramatic holes should not be underestimated.  The Bahamas' "Blue Holes" are inhospitable, making diving a challenge even for the most skilled divers.

World's Most Accessible Underwater Plane Wreck

The Staniel Cay plane wreck is one of the most famous shipwrecks in the Bahamas, and for a good reason.

It's one of the most accessible, thanks to its shallow grounding, which is easily found by kayakers and those who dare to venture to its final resting place.

A short boat ride from Staniel Cay will bring visitors to this spot, where the Bahamas plane wreck rests in the shallow, crystal-clear waters of the Exuma Cays.

Its intriguing history involves the Colombian cartel empires of the late 1970s and 1980s, and the plane crash site is equally historic and beautiful, teeming with marine life just below the surface.

Learn The History Behind The Queen's Staircase

Queen's Staircase in Nassau, Bahamas

The Queen's Staircase at Fort Fincastle in Nassau, was hand-carved from a solid limestone rock during the year of 1793 to 1794 by slaves. The staircase is 102 feet tall, and also has 66 steps, putting it among Nassau's most popular tourist attractions and taking 16 years to complete. Today, only 65 steps are visible.

The Queen's Staircase has historical significance and has served as a reminder of both its construction history and Queen Victoria, who abolished slavery in all British colonies. Her reign ended in 1901, but as an honor for her end to slavery, the previously unnamed staircase was given her name in the 1800s.

The Pig Island In The Bahamas

Credit: BlueOrange Studio

The Bahamas was once known for its leisurely beaches which made it a serene getaway. However, in the last decade, Pig Beach (Big Major Cay), has taken its place at the top of the list of the most popular places for tourists.

The Pig Beach is an inhabited island, also home to up to 25 feral pigs at any one time. There are some theories, but no one knows exactly how the animals arrived on the island. These pigs are familiar with tourists, who love to interact and are permitted to swim with them.

Tongue Of The Ocean Offers Pristine Diving

Shutterstock

Caribbean coral reef off the coast

The Tongue of the Ocean: Home to a much deeper underwater region than is often seen in the Bahamas. It's an area of much deeper water that separates the island of Andros, Great Exuma, and New Providence.

The Tongue of the Ocean's sea floor plunges from only 120 feet to 6,000 feet between the islands, providing divers with an exclusive look at the depths of the ocean surrounding these landmasses.

Andros island is the largest in the Bahamas, home to around as much land as all the other islands combined. New Providence Island is the most populous island with the main city of Nassau and is home to roughly 70% of the island nation's population.

All-Inclusive Resorts In the Bahamas

Shutterstock

Margaritaville Beach Resort, Downtown Nassau, Bahamas

The draw of All-Inclusive resorts is undeniable. Travelers love flocking to tropical locations to soak in the sun and enjoy the water while not worrying about their budget. It is hard to be a price tag on peace of mind, but all-inclusive resorts provide this peace of relaxation and so much more.

Staying at an all-inclusive resort in the Bahamas is a dream vacation for many travelers.

Adult-Only All-Inclusive Resorts

Everyone needs a grown-up vacation, and when there are no kids around, it's time for an adult-only all-inclusive vacation.

Of course, family time is wonderful, but there's no denying that sometimes, adults need a bit of reprieve, relaxation, and rest.

The Bahamas is the perfect spot to do all of these, especially when it's home to some of the best adult-only all-inclusives in the world. No matter what a couple, solo traveler, or friend group might need, any one of these resorts is bound to offer it.

Book Your Trip To Atlantis Bahamas

Shutterstock

Atlantis Hotel and Casino, Paradise Island, Nassau, Bahamas

As one of the best places for a vacation in the world, the Bahamas has something to offer everyone. Its jaw-dropping, sand-fringed beaches that line its 2,201-mile coastline will do wonders for anyone in desperate need of the perfect island getaway.

Vacation perks aside, there are many travel-related facts about the country and her capital—other than her sandy beaches or her pristine blue waters—that every traveler should know before visiting.

One of the biggest facts is this: Atlantis is an absolute show-stopper for anyone considering a vacation trip to the Bahamas. With one of the largest casinos in the country, the ever-popular Aquaventure water park, and the largest open-air marine habitat on the planet, it's a winning combination for anyone looking to book the ideal vacation.

Family-Friendly, All-Inclusive Resorts

Home to 700 islands, there's no shortage of resorts to book in the Bahamas. When it comes to vacations, the only thing that can make one better, sometimes, is being able to create memories with family. With kids along for the ride, these islands become a haven for any family looking to book a family-only all-inclusive.

At these resorts, there is literally something for everyone – from toddlers to adults.

Everything You Need To Know About Atlantis

via:Travel for Senses

Booking Atlantis might be one of the biggest rewards anyone can give themselves in the way of a vacation to the Bahamas. This resort is known quite famously as the gem of these 700 islands, and for a good reason. Visitors will be hard-pressed to find the same number of activities, amenities, and attractions that this impressive accommodation offers.

Additionally, the idyllic theme of Atlantis makes it even more illusive to potential travelers – and it's one of few on earth that brings to life a rumored ancient city. Whether the adventures are topside or underwater, Atlantis Bahamas is sure to spirit guests away with the magic that it offers.

All-Inclusive Resorts With The Best Reviews

The Bahamas isn't just an idyllic getaway – oftentimes, it is the getaway. For those seeking an adventure of a lifetime, a serene slice of heaven, or even a tropical paradise away from the ins and outs of mundane life, the Bahamas has it.

To further enhance the experience, many all-inclusive resorts offer even more than this in the way of amenities. If paradise is the vacation that travelers have in mind, then this destination – and these resorts – are it.

Travel Through The Bahamas On A Budget

Via: Shandley McMurray

A beautiful beach in Lyford Cay in Nassau, Bahamas.

Traveling through the Bahamas may feel like it's out of reach to many travelers, but a stay in the Bahamas can be done quite affordably.

Despite its aura of a tropical wonderland that may only be explored after a hefty investment, but that couldn't be further from the truth. The Bahamas are accessible to all, even those on a budget.

Costs & More: Visiting Pig Beach

Sitting only 89 miles from the mainland, Exuma Cays is the perfect place for travelers who love both scenic beaches and wildlife. In this case, that wildlife includes a host of up to 25 native pigs who roam the island's shores!

These swimming pigs have become a main attraction in the Bahamas, and while there's plenty to know about interacting with them, there's also plenty to know about the costs to do so.

How Far $100 Will Get You In The Bahamas

While the Bahamas can offer an affordable vacation, it can also land on the opposite end of the spectrum. So, how much should travelers be budgeting when it comes to this lavish slice of island life? As it turns out, $100 a day might just be enough (or more than enough) for travelers to get by on their ultimate vacay.

With helpful budget guides, breaking down the costs and money needed to splurge on this vacation become easy. There's no room for guesswork when it comes to planning the perfect getaway.

Budget Guide: Booking Paradise Island

A photo of the Bahamas, Paradise Island

A myriad of attractions, stunning beaches, and pristine marine environments is what attract visitors to Paradise Island in the first place. This unique part of the Bahamas is home to some of its most beautiful scenery, and it's not surprising that the question everyone is asking is, "how much will it cost?"

The answer lies in a budget guide, which breaks down everything from transportation to food so that travelers can make the best choices when planning their vacation. When it comes to paradise, this island can be within reach.

Budget Bahamas: Visiting Atlantis

Shutterstock

New Years Eve fireworks in Dubai with Atlantis, The Palm view

So, how much would it really cost to book a trip to Atlantis Bahamas? Luckily, it doesn't need to be out of reach.

There's plenty to know when it comes to budgeting for a resort such as this, and there are even more reasons as to why it's completely worth the money. Whether it's breaking down costs for food or excursions, there are plenty of ways for travelers to plan this dream vacation, and it doesn't necessarily mean pinching pennies in order to do so.

Florida's Islands Are Cheaper Than The Bahamas

Via Flyopedia

While the Bahamas might be the ultimate destination for those seeking the perfect, idyllic island escape, many forget that there is one place that's slightly more within reach.

Florida is home to plenty of coastal towns, cities, and islands that offer similar, if not the same, island vibes that one might get from a Bahamas vacation. With costs and transportation to consider, one might find that booking a vacation to one of Florida's many coastal escapes might be exactly what they need.

Plan For A Trip To The Bahamas

Shutterstock

Tilloo Cay, Marsh Harbour, Abaco, The Bahamas

There is a lot for travelers to consider when they are planning a trip to the Bahamas. First off, they need to consider the weather and what they would like to do when they are there. Next, they have to decide how willing they are to deal with crowds.

After that, travelers should have an idea of what island or islands they want to visit and where they want to stay.

Bahamas Transportation Questions, Answered

Shutterstock

New Years Eve fireworks near Atlantis hotel in Dubai

Does Nassau have Uber? Is it easy to get around on foot? These are only a few of the questions that travelers have when it comes to booking their Bahamas vacation. While getting around these beautiful islands isn't difficult, it is worth knowing which transportation is worth booking.

Additionally, it's worth knowing which islands offer walkable escapes, especially for travelers who are more inclined to explore on foot rather than hail a cab. The good news is this – a transportation guide will have all the answers, depending on the vacation a visitor is looking for.

Island-Hop In The Bahamas

Paradise Bay Bahamas

The only thing that could make a Bahamas vacation better is if one goes on it knowing they'll be island hopping to some of the best locations in this tropical paradise.

Island hopping in the Bahamas is easier than many people realize, and is rewarding in more ways than one. Rather than being confined to one place, with a few easy tips, travelers can be hopping from one scenic beach to the next. With an array of scenic vistas to be explored, island hopping is one of the best ways of seeing the Bahamas and all that it has to offer its enthusiastic visitors.

Plan The Best Bahamas Cruise

Awaiting visitors just 200 miles from the coast of Miami is the Bahamas, in all of its tropical glory. While many people think that flying is the best way to arrive at this island paradise, the idea of cruising to it often gets left behind.

Luckily, the actual planning part of this idyllic cruise is the easy part – and it's smooth sailing (quite literally) from there! Planning a cruise to the Bahamas takes nothing at all, and there are plenty of benefits to doing so. From the relaxation that comes with slow travel to the scenic views travelers will have along the way, sometimes the reward really is in the journey – as well as the destination.

The Ultimate Travel Guide To Nassau

A boat and the water in Nassau Bahamas

These days, there's nothing more satisfying than being able to pack up and head to a beautiful destination like the Bahamas. With that, however, come the questions about planning, when to go, and how much it'll cost. Even more so, what are travelers going to do once they get to their destination? Luckily, a guide can answer all of this and so, so much more.

With a complete guide to planning the ultimate Bahamas vacation, including the best things to do on these islands, there will be no shortage of excitement once the trip is actually booked.

Why Atlantis Needs To Be On Your Bucket List

Tokar

A view Atlantis Nassau Paradise Island at sunset, Paradise Island

The hype is real for many resorts, but few so much as Atlantis Bahamas. In reality, this resort does live up to the reputation that precedes it – and it's one that's nothing short of superior. With a long list of amenities, activities, attractions, and scenic views to boot, this is one of the best resorts – and resort experiences – that one can have when booking their Bahamas trip.

Travelers Will Need These Things

Shutterstock

United States Passports on top of an American Flag

With the Bahamas being so close to the U.S., it often begs whether visitors will need a passport to make landfall on this island. Luckily, we have the answers for that and more.

In reality, the question can be answered in multiple parts, all of which visitors will need to know before booking their Bahamas vacation if their place of origin is the U.S.

Best-Rated Airlines To The Bahamas

Shutterstock

Airplane flying over tropical trees

Looking to book a flight to the Bahamas? If this is the case, then one might be questioning which airline is the best option. It's a common thing to wonder with so many airlines offering direct flights to these scenic islands, and we have the answer for that, too.

From well-known airlines to those that one may not have considered, some are definitely flights that are more worth booking than others.

Know This Before Visiting Bimini

Shutterstock

Aerial view Bimini island, Bahamas

Only 50 miles from the coast of Florida sits Bimini, which is a paradise in its own right. This island has risen to popularity for those looking for a vacation that offers a small-beach-town feel, but with no shortage of things to do.

For anyone considering visiting this incredible island in the future, there are plenty of things to know before going. While there is something for everyone, visitors should also be aware of the best times to go, what to expect, and what to do during their time spent there.

Luxury Beach Hotels In Nassau

Shutterstock

Baha-Mar Luxury Resort Hotel and Casino in Nassau, Bahamas

The Bahamas is one of few places on earth that combine so much luxury with such a stunning scenic backdrop. Among the luxurious options that exist for future travelers are resorts and hotels that offer nothing short of opulence. There's something about a warm ocean breeze floating through the window of one's private patio, overlooking the water below, with pools, beach activities, and various excursions at their disposal – not to mention all the on-site amenities.

One thing is for sure when booking any number of these Bahamas accommodations: Luxury and beachside getaways certainly do go hand in hand.

Amazing Nassau Excursions

Shutterstock

An image of a beach in Nassau

Nassau might seem as if it's oversaturated with tourists at times, but there's plenty more in this perfect island spot than meets the eye. With a slew of adventures to be had, visitors will never regret taking advantage of any number of its famed excursions.

Whether it's snorkeling in water teeming with marine life or renting an ATV to see some of the area's lesser-viewed scenic overlooks, the trip is more than worth it.

The Bahama Islands Versus Caribbean

A common battleground for travelers seeking a tropical vacation is often the Bahamas vs. the Caribbean Islands: which one takes the cake when it comes to the better vacation?

While a true comparison can only be made when considering every detail, the answer might become abundantly clear to travelers who side with one island paradise or the other. Depending on what travelers are looking for during their island getaway, they'll find that they undoubtedly identify with one of these topical locales more so than the alternative.

Barbados Vs. Bahamas Vs. Aruba

In a three-way face-off, it's not entirely uncommon for visitors to make a choice between Barbados, the Bahamas, and Aruba. These are three heavy-hitting idyllic island destinations, and they often compete for attention from beach lovers all over the world.

When it comes to choosing just one, the choice might be challenging – but it helps to have a handy guide that provides all the answers travelers need to make the best vacation decision.

Caribbean Vs. Bahamas

When it comes to two of the most well-known and visited islands in the world, the Bahamas and the Caribbean often have some heavy competition against one another.

When it comes to deciding between the two, however, the choice becomes even more difficult – as both destinations have winning attributes capable of shooting them to the top of anyone's list. So, which island will come out on top?