Canals, gondolas, and the Rialto Bridge. You think you know what to expect from Venice, but it turns out that no photo, however digitally enhanced, can hold a candle to the real city. To get to know it, though, requires more than an afternoon. While the day-trippers are stampeding from the Rialto to St Mark's Square, you should be a block or two away, watching artisans craft items with Renaissance techniques, seeing shimmering reflections dancing on bridge arches, and gawking at marble-clad buildings each more fantastical than the next. The joy of Venice is getting lost, they say – although however far you amble, you're never more than a couple of churches away from a Titian or Tintoretto.
Don't stick to the city, though – that getting lost should also be done in the lagoon, taking the vaporetto (ferry) to the beach-filled Lido, island of glass Murano, and, further out, Torcello and Burano, where Venice began 1600 years ago. You could spend a lifetime here and never do Venice justice. But with just a few days, it can touch your soul.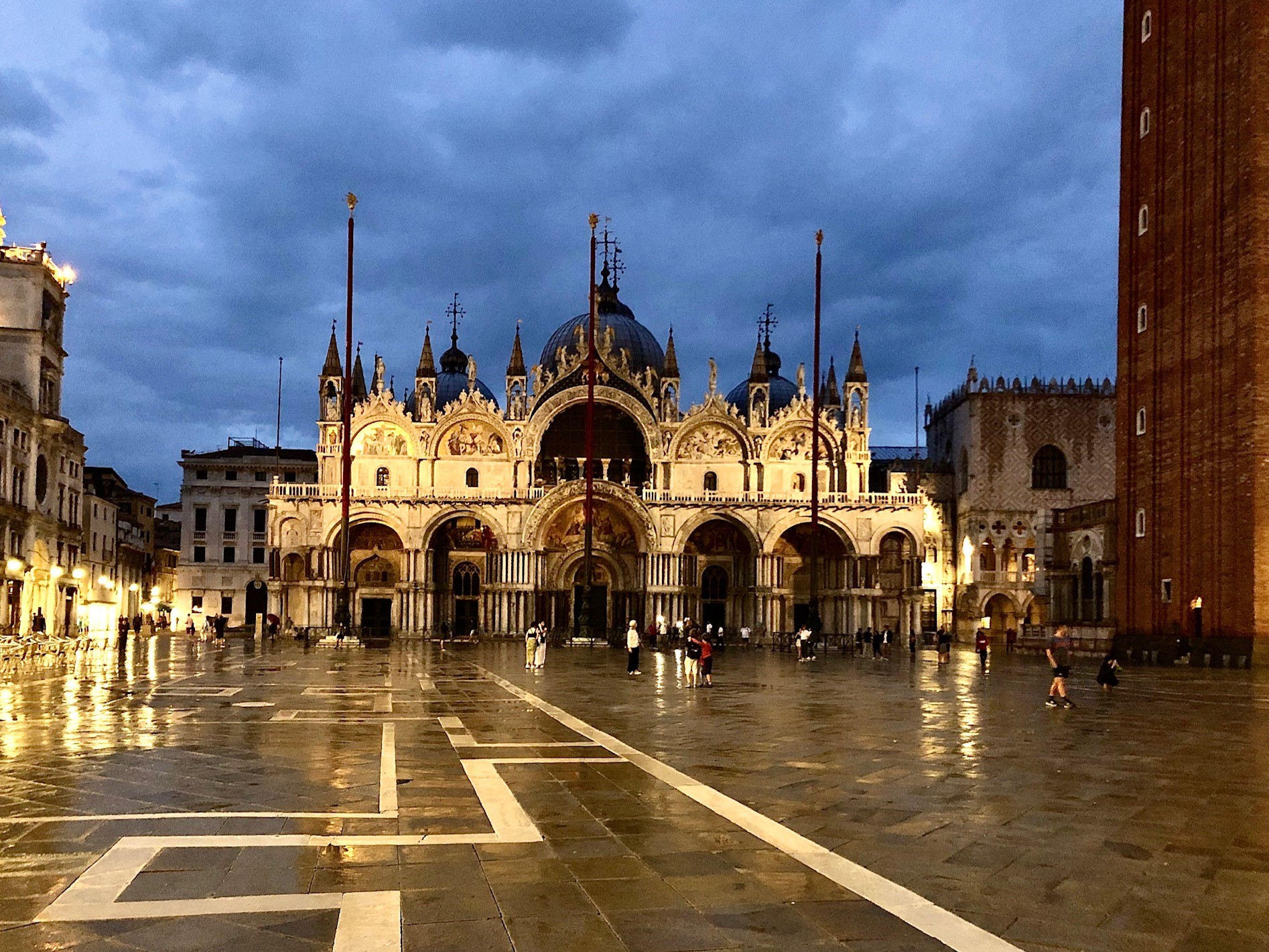 Time Zone
Central European Standard Time
Best Time to Go
If you're wanting to escape the crowds, there's no better time than winter, when visitor numbers are at their lowest. But while there's a romance to it, Venice in winter with its biting cold, swirling fog, and frequent wind and rain certainly isn't the Venice of people's dreams. In summer, the city is crowded and hot – but it's also the perfect time to head to the beach on the Lido, or into the lagoon. Spring and fall tend to have the best of both worlds – go late March to mid April, Easter aside, and you should enjoy decent weather but not too many crowds. Christmas tends to be quiet but New Year is busy, and Carnival (roughly mid January to mid February) is packed.
How to Get Around
Trains: Venice has two main train stations, Venezia Santa Lucia and Venezia Mestre, but only long distance trains stop at the former while local trains go to the later.
Buses: The vaporetto is the public transit system in the city and operates on 20 different lines all through town. The water buses run the length of the Grand Canal and cost €7.50 per ride, and are good for 75 minutes. Travelers can also get a Venezia Unica City Pass (€10) to use one both mainland buses and some water water buses. Buses from the mainland and local airports terminate at Piazzale Roma in Santa Croce.
Taxis: Water taxis can be found at the airport, train and bus station, and Piazza San Marco. Otherwise they must be booked in advance. Note that they're expensive, with a minimum charge of €60 ($72). Ground taxis (a car) can take you from the airport to Piazzale Roma for considerably less.
Car service: Hotels can arrange transfers, usually with water taxis.
Gondola: While more of a scenic mode of transportation rather than a pragmatic one, Gondola rides are synonymous with Venice and shouldn't be missed. Daytime rates are usually around €80 ($95) or €100 ($120) at night, excluding tip.
Best Hotels
Hotel Flora
Address: S. Marco, 2283/A, 30124 Venezia VE, Italy
Phone: +39 041 520 5844
Website
Set at the bottom of a small alleyway on the designer drag off Piazza San Marco is this time capsule of a hotel, owned by the local Romanelli family. While the rooms are stuffed with antiques and the floors are typical Venetian terrazzo, it packs a luxury punch with Simmons mattresses, Rivolta Carmignani linens, and Ortigia amenities. Breakfast is served in the tiny courtyard out back, while the retro-style bar is the place to be after dark.
Giò & Giò Bed and Breakfast
Address: Calle delle Ostreghe, 2439, 30124 Venezia VE, Italy
Phone: +39 041 296 0491
Book Now
You'll feel like you're stepping into your swanky Venetian friend's home as you enter this boutique B&B near the Santa Maria del Giglio church that's just a quick stroll from St Mark's Square. Antiques sit alongside contemporary white-clad sofas, chandeliers hang from pebble-colored ceilings, and the three rooms continue that mix of old-meets-new.
Istituto Canossiano San Trovaso
Address: Fondamenta Eremite, 1323, 30123 Venezia VE, Italy
Phone: +39 041 240 9711Website
Many of the city's monasteries and convents run B&Bs on the side, and staying in one is a unique way of seeing Venice. The Istituto Canossiano San Trovaso, run by nuns in arty Dorsoduro, is as close as they get to hotels: large, comfy rooms in a 17th-century building, at a fraction of the price of similar-standard hotels. You don't get breakfast, but there's a communal kitchen; and you don't need to be religious, but must be ok with a Madonna and Child over the bed.
Avogaria
Address: Calle Avogaria, 1629, 30100 Venezia VE, Italy
Phone: +39 041 296 0491
Book Now
You'll feel like a real Venetian in this five-room B&B at the quieter end of Dorsoduro. Rooms are sleek but fun, with out-there patterned walls, heavy drapes, and swanky mosaic-tiled bathrooms. Choose a junior suite and you'll get a private, walled garden.
Centurion Palace
Address: Dorsoduro, 173, 30123 Venezia VE, Italy
Phone: +39 041 34281
Book Now
Had enough of the heavy brocade and stucco found all around town? You'll want this ultra-modern grande dame of claret and brown walls, contemporary art, and blingy bathrooms papered with real gold leaf. Ask the friendly staff to set up breakfast or dinner on the terraces cantilevered over the Grand Canal.
Palazzo Stern
Address: Dorsoduro, 2792/A, 30123 Venezia VE, Italy
Phone: +39 041 277 0869
Book Now
Ride the number 1 vaporetto along the Grand Canal and you'll notice this pretty, locally-run hotel with its lovely little garden right beside the Ca' Rezzonico stop. Owned by an early 20th-century art collector, the 15th-century building is packed with antiques and ancient sculptures. Above the traditional rooms is a rooftop hot tub.
Ca' di Dio
Address: Riva Ca' di Dio, 2181, 30122 Venezia VE, Italy
Phone: +39 06 398 061
Book Now
New hotels in the city center are now banned by the Venice authorities, so this property, opening in summer 2021, is one of the last debuts. And it's a goodie: a grand palazzo with a rare modern interior and two private courtyards to escape the crowds. Even better? Its front-facing rooms (and roof terrace) have the same lagoon views as those around St Mark's but its location, a 10-minute walk up the famous Riva degli Schiavoni, by the Arsenale vaporetto stop, means it's beautifully peaceful.
Danieli
Address: Riva degli Schiavoni, 4196, 30122 Venezia VE, Italy
Phone: +39 041 522 6480
Book Now
This, the former home of a 14th-century doge (plus two more modern annexes), is the Venetian grande dame par excellence. Sit back in the bar – the original doge's atrium, with Corinthian columns and a grand coffered ceiling. Eat on the rooftop overlooking the lagoon at Terrazza Danieli. Or climb the breathtaking Escher-like staircase to the rooms – some designed by Jacques Garcia, others pointed right at the lagoon, and a special few with original painted ceilings.
Hotel Santa Chiara
Address: Santa Croce, 548, 30135 Venezia VE, Italy
Phone: +39 041 520 6955
Book Now
If you're not here for long, it's simpler to get the bus from the airport and leave your stuff at the terminus, instead of braving packed ferries and lugging your bags across countless bridges. This lovely, locally-owned hotel – part old convent, part ultra-modern block – has great, modern rooms, some of which overlook the Grand Canal. Pretty Santa Croce is on the doorstep, and San Polo and Dorsoduro are each a 10-minute walk.
Cima Rosa
Address: Calle Dandolo o Civran, 1958, 30135 Venezia VE, Italy
Phone: +39 041 863 3022
Website
Five rooms, three of them overlooking the Grand Canal, and a peaceful courtyard to kick back in – if those aren't reasons enough to book this lovely B&B, how about the decor? Instead of traditional Venetian grandeur, rooms sport the colors of the lagoon – eau de nils, greys, and barely blues. Breakfast is served in the living room, where canal reflections dance on the ceiling.
Venissa
Address: Fondamenta di Santa Caterina, 3, 30142 Venezia VE, Italy
Phone: +39 041 527 2281
Book Now
You want to stay far from the crowds but you still want luxury? This modern Michelin-starred restaurant-with-rooms is the place for you. Sitting canalside on the quiet island of Mazzorbo, with a sprawling vineyard round the back, this gets you back to nature – and Burano's multi-colored houses sit just across the bridge at the end of the garden.
Best Restaurants
Quadri
Address: P.za San Marco, 12130124 Venezia VE, Italy
Phone: +39 041 522 2105
Website
By day, Quadri is known for its outdoor tables and inhouse orchestra serenading guests as they sit in St Mark's Square. By night, though, this Venice institution – everyone from Lord Byron to Brad Pitt has stopped here – opens a Michelin-starred restaurant upstairs. Forget the food, straight from the Rialto market and the Philippe Starck-designed room, focus on the unparalleled view of that famous square from a secret angle. Reservations recommended.
Trattoria Al Gatto Nero
Address: Via Giudecca, 88, 30142 Venezia VE, Italy
Phone: +39 041 730 120
Website
A stop at Trattoria Al Gatto Nero is worth the 40-minute vaporetto ride to Burano. This wonderful institution is known lagoon-wide for serving the freshest fish netted by the island's boats each morning. Trust maitre d' Massimiliano to point you in the direction of the day's best catch; and trust his parents, Ruggero and Lucia, to cook it to perfection. Reservations recommended.
La Zucca
Address: S. Croce, 1762, 30135 Venezia VE, Italy
Phone: +39 041 524 1570
Website
If you don't love seafood, Venice can be a struggle. Not at La Zucca ("The Pumpkin"), which has a delightful veggie-heavy menu, whatever your dietary preferences. Load up on the inventive sides – like prosecco-stewed onions, or zucca in saor, sweet-and-sour pumpkin marinated with currants, onions and pine nuts. Reservations recommended – book an outdoor table beside the canal.
Antica Sacrestia
Address: Calle de la Corona, 4463, 30122 Venezia VE, Italy
Phone: +39 041 523 0749
Website
Genial owner Pino is a multi-generational Venetian who brings the best of the lagoon to the table, despite the handy location in the touristy alleys behind St Mark's Square. Don't be afraid to venture away from pasta and pick gratin scallops and mussels – or whatever came in that day.
El Refolo
Address: C. Giazzo, 1580, 30122 Venezia VE, Italy
Phone: No phone
Website
A classic modern joint for cicchetti (Venetian bar snacks), the restaurant pairs great local wines with the best Italian ingredients, stuffing sandwiches and tiny bread rolls with everything from zucchini and cavolo nero frittata to grilled eggplant and capocollo. Popular with locals, it's a brilliant lunch stop.
Venissa
Address: Fondamenta di Santa Caterina, 3, 30142 Venezia VE, Italy
Phone: +39 041 527 2281
Website
Mazzorbo, a lagoon island next to Burano, has long been known for its agriculture. Local prosecco magnates the Bisol family have taken things up a notch by replanting an ancient vineyard, adding a vegetable garden and opening a Michelin-starred restaurant and trattoria (same kitchen, lower prices). The menu is inventive lagoon food, and if you want to make a night out of it, there's a tiny hotel upstairs. Reservations recommended.
Ae Bricoe
Address: Fondamenta dei Ormesini, 2684, 30121 Venezia VE, Italy
Phone: No phone
Website
Venetian tramezzini – sandwiches stuffed to the gills – are legendary, and this tiny bar on Cannaregio's popular drinking strip, run by siblings Federica, Stefania, and Davide Michielan, is the best place to try them. Bag a canalside table and try the porchetta – herb-roasted beef, produced by a friend of the family.
Locanda Cipriani
Address: Piazza Santa Fosca, 29, 30142 Torcello VE, Italy
Phone: +39 041 730 150
Website
This legendary restaurant-with-rooms on quiet Torcello island has captured the hearts of everyone from Nancy Mitford to Ernest Hemingway, who stayed a month. The food, sourced from around the lagoon, is Michelin-rated, but you're here for the out-of-this-world atmosphere. Book a table in the pergola-shaded garden, Torcello's two Byzantine churches soaring up behind the rose bushes. Reservations recommended.
Osteria Ae Botti
Address: Giudecca, 609, 30133 Venezia VE, Italy
Phone: +39 041 724 1086
Website
You'll get the best sunsets in Venice here on Giudecca island, where the sun ploughs into the lagoon like a giant gobstopper as shadows cast over the city, across the water. This lovely, laidback restaurant is the place to take it in, with tables stretched out along the waterfront as the Giudecca Canal slaps at guests' feet. It's divided into a pizzeria and a restaurant – pick whichever appeals, as you're here for the view. Reservations recommended.
Ristorante Riviera
Address: Fondamenta Zattere Al Ponte Lungo, 1473, 30123 Venezia VE, Italy
Phone: +39 041 522 7621
Website
Bag an outdoor table at this Michelin-rated restaurant on the ever-sunny Zattere waterfront, overlooking the Giudecca Canal. The food is fervently local, but forward-looking – go all out with the 12-course "Big Market" tasting menu to get the best sense of what the region has to offer, from lagoon-grown mackerel to beef carpaccio and Asiago cheeses. Reservations recommended.
Frary's
Address: Fondamenta Frari, 2558, 30125 Venezia VE, Italy
Phone: +39 041 720 050
Website
Pick a canalside table at this lovely laidback restaurant for a super-quick canalside lunch, overlooking the Frari church. If you're sick of Italian food, this is your respite – the Mediterranean cuisine rounds up dishes from Greece to Iran. The fesenjoon – a Persian mix of chicken, walnuts, and pomegranate on rice – is outstanding.
Didovich
Address: Campo Santa Marina, 5908, 30122 Venezia VE, Italy
Phone: +39 041 523 0017
Website: no website
No time for lunch? Pop into here, one of Venice's historic pasticcerie, or cake shops. As well as pastries, they do everything from sandwiches to local dishes, like radicchio lasagne – a restaurant-style experience served in minutes.
Osteria Da Moro
Address: Fondamenta Sant'Eufemia, 658, 30133 Venezia VE, Italy
Phone: +39 041 099 5884
Website: No website
Fill up on the cicchetti here and you won't need dinner. From fish-laced crostini to mini meatballs, you can construct your own feast as you take in the show-stopper Giudecca sunsets with a glass of wine on the outdoor tables. The prices are excellent, too.
Ai Garzoti
Address: o dei Garzoti, Fondamenta Rio Marin, 890, 30135 Venezia VE, Italy
Phone: +39 041 716 636
Website
Pizza is relatively new to Venice, but you wouldn't know it from the perfectly crisp pies on offer at Ai Garzoti. Try an unorthodox topping like 'nduja and peppers, or if you'd prefer something lighter, they do inventive salads. There's a full restaurant menu, too.
Harry's Dolci
Address: Fondamenta S. Biagio, 773, 30133 Venezia VE, Italy
Phone: +39 041 522 4844
Website
You can't come to Venice and not drink a Bellini cocktail – that peach and prosecco mix that sweetens every trip here. But instead of heading to Harry's Bar, where it was invented, hop on the vaporetto to Giudecca, where you'll find sister restaurant Harry's Dolci. You'll get the same Bellinis and fish-filled Cipriani menu; only with spectacular waterside views from the outdoor tables.
Things to Do
Grand Canal
The vaporetto (waterbus) lines plying the zigzagging Grand Canal double as spectacular cruises. Hop on the number 1 at Piazzale Roma or the station, and wiggle your way down past marble-clad palaces, each more ornate than the other, before sailing under the Rialto Bridge, past St Mark's Square and the Doge's Palace, and alighting at San Zaccaria.
Piazza San Marco
Most visitors to Venice come for one thing only: the breathtaking, waterside St Mark's Square. Have coffee in one of the chi-chi cafes outside (we recommend Quadri), visit the Basilica di San Marco, the church covered head-to-toe in glittering gold mosaics, and stroll along the Riva degli Schiavoni waterfront, for those classic lagoon views.
Palazzo Ducale
Address: P.za San Marco, 1, 30124 Venezia VE, Italy
Phone: +39 041 271 5911
Website
Overlooking the waterfront, this stunning palace – which was the seat of power for the ancient Venetian Republic — showcases an astonishing mix of artistic masterpieces and grand architecture, including the famous Bridge of Sighs. Take the Secret Itineraries Tour to get guided around the prisons and other rooms not otherwise open to the public – you're then free to continue the rest of your visit alone.
San Giorgio Maggiore
Address: Isola di San Giorgio Maggiore
Admire the Tintorettos in the vast church below, then take the elevator to the top of the belltower on this island monastery. From here, you'll have spectacular views of Venice – go at sunset to see the lagoon flush pink beneath you.
Querini Stampalia Museum
Address: Campo Santa Maria Formosa, 5252, 30122 Venezia VE, Italy
Phone: +39 041 271 1411
Website
Only time for one museum in Venice? Make it this one, a former noble's house, stuffed with works by the likes of Bellini, Tiepolo, and Pietro Longhi upstairs, and a ground-floor wing and garden designed by 20th-century architect Carlo Scarpa where the canal is encouraged in to lap against specially constructed channels.
Burano and Torcello
Get a vaporetto (ferry) to these two islands 40 minutes outside Venice. Fishing town Burano's multicolored houses make it an Instagram paradise (go early or late to discover the real town), while semi-deserted Torcello, where Venice began, is known for the Byzantine mosaics in the basilica of Santa Maria Assunta.
Northern Lagoon of Venice
Phone: +39 333 904 3172
Website
Spend the afternoon with Andrea Rossi, one of Burano's best fishermen, who'll show you the hidden corners of the lagoon in his boat. You choose the itinerary, from fishing to floating through inches-deep channels, or birdwatching on Torcello.
Teatro La Fenice
Address: Campo S. Fantin, 1965, 30124 Venezia VE, Italy
Phone: +39 041 786 654
Website
Most visitors tour Venice's famous opera house, which burned to the ground in 1996 before being rebuilt. But for a more intimate experience, book a ticket for a show to hear the legendary acoustics and see the gold-drizzled stucco up close from your own box, instead.
Scuola Grande di San Rocco
Address: San Polo, 3052, 30125 Venezia VE, Italy
Phone: +39 041 523 4864
Website
Tintoretto is one of Venice's 16th-century celebrity artists, and this is where you'll find his best works. The top floor of this building is covered entirely – yes, even the ceiling – in his paintings, making it an artwork in itself.
Buy a Chorus Pass
Venice's churches are living museums, with masterpieces usually in situ. Fifteen of the best make up the Chorus group – buy an open-access ticket (valid for 12 months) so you can pop in to see Tintoretto in San Polo, and Canova's tomb in the Frari church, as you walk around.
Arts & Crafts tour
Phone: +39 349 084 8303
Website
Venice's artisans have a proud history, with many crafts dating back to medieval times and earlier. These days, they're endangered – so take a tour with guide Luisella Romeo, who'll take you to meet glass-blowers, mask-makers and gold-beaters.
Walk the Giudecca
The 20-minute walk along the waterfront of Giudecca, the island squaring off against the city center, nets you some of the city's most iconic views, with St Mark's and the round Salute church always in the background. This is also one of the least touristy areas, so follow the locals into bars for a spritz along the way.
Lido
If it's sunny, blow off steam from all that culture with a trip to the Lido, the long sandbar off Venice city center. The deep-sanded beach is incredible, here – head west for the free section, away from the sunbeds.
Gondola ride
Yes, it's expensive. Yes, it's worth it – Venice was built to be seen from the water. But don't rent one on the Grand Canal; instead, you want to be going along the small waterways where you can't get by public transport and the only sound is the slosh of water on the boat. Start from the train station for an off-the-beaten-track itinerary.
T Fondaco dei Tedeschi rooftop
Address: San Marco, 5541, 30124 Venezia VE, Italy
Phone: +39 041 314 2000
Website
Work your way through this department store in a 16th-century building by the Rialto Bridge, up to the rooftop. From up here you'll get astonishing views of the Rialto and the Grand Canal, snaking from top to bottom. Reserve ahead online.
Best Shopping
Rialto Market
Address: Campiello de la Pescaria, 30122 Venezia VE, Italy
Phone: No phone
Website: No website
The waterfront market beside the Rialto Bridge has been going strong for centuries. Don't just take photos, though; buying is part of the fun, whether it's lagoon-netted fish or veg from Sant'Erasmo island.
Il Pavone Legatoria Artigianale
Address: Calle Perdon, 1469-1477, 30125 Venezia VE, Italy
Phone: +39 041 522 4296
Website
From pencils to notebooks, scarves and even earrings, Paolo Pelosin does them all in marbled paper. Ask to see his workshop out back, where he uses combs to create swirls and blobs with this ancient art.
Process Collettivo
Address: A, Fondamenta Frari, 2559, 30125 Venezia VE, Italy
Phone: +39 041 524 3125
Website
From the recycled bags, passport holders and washbags to essential oil-infused soaps and amenities, everything on sale here has been made by inmates in Venice's jails. The shop is a collaboration with artist Mark Bradford and two local non-profits, which staff are always delighted to tell you about.
Stefano Morasso
Address: Campo San Cosmo Giudecca 621/A, 30133 Venezia VE, Italy
Phone: +39 041 564 7224
Website
Why brave the crowds and souvenir shops on Murano when you can buy hand-blown glass by a Murano maestro on Giudecca – for a better price? Stefano makes incredibly modern, delicate glasses, beakers and vases, while wife Nicoletta turns his offcuts into stunning glass jewelry.
Paolo Olbi
Address: 3253/A, 30123 Venezia VE, Italy
Phone: +39 041 523 7655
Website
Byzantine and Venetian motifs take center stage at Paolo's store. The octogenarian bookbinder makes notepads, albums, folders and bookmarks with his hand-printed designs, while he's also branched out into leather- and fabric-clad objects.
Marina de Grandis
Address: Calle Larga Giacinto Gallina, 6376, 30121 Venezia VE, Italy
Phone: +39 041 521 0019
Website
Ignore those cheap "Made in Italy" leather shops for hand-sewn pieces by leather worker and bookbinder Marina. Choose from her rainbow-colored handbag collection, or try a leather-clad notebook with cult Fabriano paper.
Ca' Macana
Address: Dorsoduro, 3215, 30123 Venezia VE, Italy
Phone: +39 041 277 6142
Website
You'll need a mask to remind you of Venice, of course; but make sure it's a handmade one. Carlos Brassesco handcrafts papier maché masks – both traditional Venetian designs and modern style – and runs mask-making workshops if you want a go yourself.
Legatoria Barbieri
Address: Via Giudecca, 283, 30133 Venezia VE, Italy
Phone: +39 041 528 8493
Website
Venice has for centuries been famous for its textiles. Here, Adriano Barbieri uses pricey fabrics by the likes of Fortuny and Rubelli to create exquisite notebooks, picture frames, and more.
Codex Venezia
Address: Fondamenta dei Ormesini, 2778, 30121 Venezia VE, Italy
Phone: +39 348 546 0257
Website
Artist and graphic designer Nelson Kishi makes gorgeous, one-of-a-kind line drawings of Venice in his studio, which he shares with his painter wife. Usually in monochrome pen with a single flash of color, they somehow cut to the heart of the real Venice. He makes prints of all his work, if the originals are beyond your budget.
Banco Lotto n10
Address: Salizada S. Antonin, 3478/A, 30122 Venezia VE, Italy
Phone: +39 041 522 1439
Website
Pure woollen coats, silk jackets, and summer dresses, all with a vintage feel – they're all handmade by inmates of the women's jail on Giudecca. This non-profit teaches prisoners skills to equip them for life on the outside – and their clothes, often in expensive fabrics by Venetian companies like Rubelli and Fortuny, are divine.
Dila Venezia
Address: San Polo, Campiello dei Meloni, 1477, 30125 Venezia VE, Italy
Don't mistake this for a typical souvenir shop. Artist Laura Bollato and her nephew Sebastiano make beautiful prints of Venetian cats, and turn them into bags, t-shirts, calendars and even pencil cases.
Collection Muranero
Address: Salizada del Pignater, 3545, 30122 Venezia VE, Italy
Phone: +39 338 450 3099
Website
Moulaye Niang fuses the glass-blowing techniques he studied on Murano with motifs from his Senegalese roots to create unique handmade works, from beads and jewelry to glass sculptures. Got something in mind? He takes commissions.
Teresa Ballarin Antichità
Address: Sestiere Dorsoduro, 2400, 30123 Venezia VE, Italy
Phone: +39 347 822 3536
Channel Peggy Guggenheim with the in-your face costume jewelry at this antique store's all-jewelry annexe. Outré Bakelite patterns abound – choose from vintage (going back to the early 1900s) or new takes on retro patterns.
Acqua Marea
Address: Calle S. Pantalon, 3750, 30123 Venezia VE, Italy
Phone: +39 351 922 1895
Website
Caught out by acqua alta flooding? You'll need super-chic gumboots, curated by Martina Ranaldo, who gave up life as an academic to kit out Venetians. She also has eco-friendly shoes.
Libreria Toletta
Address: Dorsoduro, 1214, 30123 Venezia VE, Italy
Phone: +39 041 523 2034
Website
Looking for a book to remind you of your trip? You'll find it here at the city's best-loved bookstore since 1933. It has a huge English-language section of guides, Venice-set novels and cicchetti cookbooks.
Neighborhoods to Know
San Marco: Once the political heart of Venice, San Marco is now the most visited of Venice's six sestieri, or districts. Piazza San Marco, or St Mark's Square, is the center; radiating out around it is a rabbit warren of narrow calli (streets), taking you to the Rialto Bridge. There are gems here, but this is definitely the tourist trail.
San Polo: On the other side of the Rialto from San Marco, this is Venice at its most medieval, with squeezebelly alleyways, sottoporteghi (cut-out passageways underneath first-floor houses) and timber-framed palazzos. Although heavily trodden, there are still artisans around, and it has a young feel, thanks to its proximity to university Ca' Foscari.
Dorsoduro: Traditionally the artists' area, Dorsoduro — the "hard back" of Venice, forming the lower border of the city center — is less boho than it was, but you'll still find high-end galleries and bijou shops around the Guggenheim Museum. It's a popular area with students around the vast, bar-lined square, Campo Santa Margherita, and the always-sunny Zattere waterfront is where locals love to stroll.
Castello: The biggest sestiere is also the hardest to pin down. Alleyways behind San Marco stuffed with restaurants and bars unfold into big, café-lined squares where local kids play football. Some of the loveliest churches are in Castello – like the marble-clad Santa Maria dei Miracoli – but this is a place for walking, along the Riva degli Schiavoni waterfront and around the Arsenale, where the Republic of Venice could knock out a warship in mere days.
Santa Croce: For the vast majority of visitors, Santa Croce is their first sight. But step away from the Piazzale Roma bus stops or the cruise terminal and one of the city's most laid back areas is on the doorstep. This is one of the most residential areas still, and the quiet canals are worth a wander. This top end of the Grand Canal is less prestigious, but, because of that, more real.
Cannaregio: What was once an industrial area is now perhaps the loveliest sestiere, with wider canals, bigger pavements to lay seating on, and magnificent palazzos. Cannaregio has long been known for its artisans; today, the Fondamenta della Misericordia is the locals' favorite bar strip, while the Fondamente Nove waterfront, on the north of the lagoon, offers spectacular views of the Dolomites, as well as ferry boats to the islands.Giudecca and the islands: Life goes on as it always has on the islands, which give a different glimpse of lagoon life. Giudecca, the croissant–shaped island opposite Dorsoduro, has some of the best views in the city, while the Lido is one great, miles-long beach. In the north, past the cemetery island of San Michele, is Murano, known worldwide for its master glassblowers. Half an hour beyond it, into the north lagoon is the fishing island Burano, known for its multicolored houses, and Torcello, where two ancient basilicas mark where Venice began.
Weather
Spring is the classic time to visit Venice, before the summer crowds (and heat) hit. Temperatures can hit 55°F in March and 70°F in May, but when the sun is out, it feels much hotter. Summer can be sweltering – although average temperatures are in the low-to-mid 80s, the humidity, which pushes 80 percent, makes everything much stickier. Fall tends to remain warm – average temperatures are 74°F for September and 64°F in October, again feeling warmer when the sun is out. Winter temperatures rarely hit freezing, though the high humidity, fog, and strong winds can make the city feel colder than other snowier cities.